Ya-Qin Zhang
Corporate Vice President, Microsoft Corporation, Chairman, Microsoft Asia-Pacific R&D Group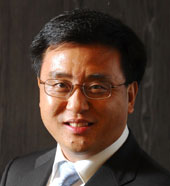 As a Corporate Vice President of Microsoft, and Chairman of Microsoft Asia-Pacific Research and Development Group (ARD), Dr. Ya-Qin Zhang is responsible for driving Microsoft's overall research and development efforts in the Asia-Pacific region. Under Zhang's leadership, ARD has become Microsoft's largest R&D center outside of U.S., with more than 3000 engineers and scientists engaged in basic research, technology incubation, product development, and strategic partnership and investment. In addition to this role, Zhang serves on Microsoft Great China Executive Management Committee providing leadership and governance across all of Microsoft's organizations in the Greater China Region.
From 2004-2006, Zhang was the Corporate Vice President of Microsoft, responsible for Microsoft's Mobile and Embedded Division in Redmond, USA, including WinCE operating system, Smartphone, PocketPC, and other Windows Mobile platform and devices. Prior to that (2000-2004), he was the Managing Director of Microsoft Research Asia, Microsoft's basic research arm in Asia-Pacific region.
From 1994 to 1999, he was the Director of Multimedia Technology Laboratory at Sarnoff Corporation in Princeton, NJ (RCA Laboratories). He was with GTE (now part of Verizon) Corp. in Waltham, MA from 1989 to 1994.
He has published more than 500 refereed papers in leading international conferences and journals and has been granted over 50 U.S. patents in digital video, Internet, multimedia, wireless and satellite communications. Many of the technologies he and his team developed have become the basis for start-up ventures, commercial products, and international standards.
Zhang served on the Board of Directors of several high-tech IT companies (SOHU, CRIC, China Soft, Wicresoft) and is an advisor to five provinces and central government agencies in China. He is also a member of the Malaysia Government's International Advisory Panel and International Advisory for National Information and Communication Technology of Australia (NICTA). He has honorary/guest/adjunct professorship of some 20 universities in China, Australia, Hong Kong, and US.
Zhang is a Fellow of IEEE. He has served as the editor-in-chief for the IEEE Trans. on Video Technology and on editorial boards of several other professional journals and more than a dozen conference committees. He has been a key contributor to the ISO/MPEG and ITU standardization efforts in digital video and multimedia.
Zhang is highly regarded as a technology and industry visionary. He received many awards from US including IEEE "Industry Pioneer Medal", "IEEE Centennial Medal", "IEEE Fellow Award" , "2004 Young Engineer of the year" for his pioneering contributions on digital video, mobile communications, and Internet technology and industry. He is one of the most visible industry leaders in China with distinctions including "Top ten CEOs of 2007", "IT Leader of the year in 2005", and "Top 10 innovators of the year in 2007".
Zhang was born in 1966. He received his B.S. and M.S. in Electrical Engineering from the University of Science and Technology of China (USTC) in 1983 and 1985. He received his Ph.D in Electrical Engineering from George Washington University, Washington D.C. in 1989 and has executive business development training from Harvard University.
Abstract: New Wave of Computing
This keynote will address major trends in the field of computing with special coverage in China's internet landscape. At 457m users, China has more netizens than any other nation in the world and the internet is changing the way Chinese live and work. Local companies are beating the MNC players with indigenous innovation for a user population very distinct from the western counterparts. Weibo, China's "Twitter", is an amazing phenomenon that is changing the social media and content consumption. Five ICT trends from both China and global perspectives will be discussed, mobile internet, SoC, cloud computing, natural user interface and China's triple network convergence. In addition, key research activities in Microsoft will be highlighted in the respective areas.