Hong Kong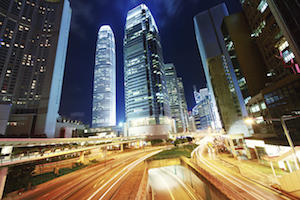 Hong Kong Island is the southern part of the Hong Kong Special Administrative Region, with a population of around 1.3 million, density 16,390/sq km (as of 2008). The island is home to Hong Kong's most famous sites, as well as the historical, political, and economic centres. Victoria Harbour, on the north coast of Hong Kong Island, is chiefly responsible for the advanced development of Hong Kong due to its deep waters which accommodate large trade ships.
Country
Hong Kong's landscapes range from hilly to mountainous. The highest elevation is at Tai Mo Shan, which reaches 3,140 ft (957 m) above sea level. Less than 25% of the landmass is developed, and 40% is made up of parks and nature reserves. Along the jagged coastline there are many bays, rivers, and beaches.
The Hakka people first inhabited this ancient fishing village, dating back to the late Paleolithic era. The Qing Dynasty's refusal to import opium resulted in the First Opium War between China and Britain in 1839, resulting in the British occupation of Hong Kong in 1841. The British established Hong Kong as a major trading centre during the 20th century, and today remains one of the world's largest commercial areas. An official ceremony marking the handover of sovereignty to China took place at the Hong Kong Convention and Exhibition Centre in 1997.
Geographical Location
Hong Kong is located on the south coast of China at 22ºN, 114ºE, 37 mi (60 km) east of Macau on the Pearl River Delta. Hong Kong's territory consists of Hong Kong Island, Kowloon Peninsula, the New Territories, and more than 200 islands including the largest, Lantau Island.

Weather
Situated just south of the Tropic of Cancer, Hong Kong has a humid subtropical climate with a relatively mild, dry winter. February is typically the coolest month of the year, with average high temperatures around 60ºF (16ºC). Temperatures may be cooler in urban areas.
Government

Hong Kong and Macau are the two Special Administrative Regions (SAR) of the People's Republic of China. Although Hong Kong is technically part of China, its political and economic systems are different to the mainland institutions. As one of the world's leading financial centres, Hong Kong's capitalist economy is characterized by low taxes, free trade, and minimal government intervention.

Hong Kong has an independent judiciary and a multi-party system. An 800-person committee selects the Chief Executive of Hong Kong to serve as head of government.

Economic Profile
Hong Kong is one of the Four Asian Tigers, marked for high growth and rapid development between the 1960s and the 1990s. Since the establishment of the Index of Economic Freedom in 1995, Hong Kong has held the top ranking as the world's freest economy. Hong Kong is home to the greatest concentration of corporate headquarters in the Asia Pacific, and the Hong Kong Stock Exchange is the sixth largest in the world.
Following WWII Hong Kong industrialized by becoming an export-driven manufacturing centre; then in the 1980s, transitioned into a service-based economy. Today the service sector accounts for over 90% of GDP.
With limited natural resources, Hong Kong imports most of its food and raw materials. A major world trading entity, Hong Kong's imports and exports exceed the Gross Domestic Product. Most of Hong Kong's exports are in fact re-exports, mostly from mainland China.

TRAVEL INFORMATION
Currency
The Hong Kong Dollar (HKD) has been pegged to the US dollar since 1983, meaning the HKD follows the same ups and downs as the USD. AUD1 = HKD6.54 at the time of publication. Foreign currencies can be exchanged at banks, moneychangers, and most hotels. Most moneychangers will charge a commission to exchange currency, so visitors may wish to compare rates. Banks offer account holders currency exchange free of charge.
For current exchange rates, please refer to:
Banking Hours
As one of the world's leading banking and financial centres, Hong Kong has more than 250 banks from more than 30 countries. Banks are generally open from 09:00 - 16:30 Monday to Friday, and 09:00 - 12:30 Saturday. Automatic Teller Machines, operated by various banks, can be found all over the metropolitan area. It's best to avoid banks at lunchtime.
Post Office
Post offices on Hong Kong Island are open from 09:30 - 17:00 Monday to Friday and 09:30 - 13:00 Saturday.
Time
Hong Kong Time is UTC +8. There is no Daylight Savings Time in Hong Kong.

Electricity
Supply voltage is 220, 50Hz. A standard grounded Hong Kong outlet supports the Type G British plug. The older Type M outlets, used in some parts of Africa, can also be found.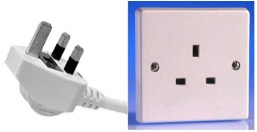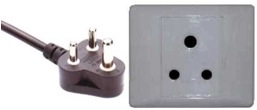 Type G Type M

Weight and Measurement
Hong Kong measurement units are a combination of the Qing Dynasty, British Imperial, and metric systems. The government favours metric units rather than the traditional, but the Chinese system is used in many aspects of daily life.
Length is often expressed with the Imperial system, using mile, yard, foot, and inch.
Weight is measured in Chinese and Imperial units, depending on the type and origin of goods (e.g. fruits are often measured in Imperial units and vegetables, meats, precious metals, and Chinese medicines are usually measured in Chinese units.)
Flat area is measured in square feet; however, traditionally agricultural plots are measured in Chinese units.
Volume can be measured in either Chinese or Imperial units.