Social Events
Opening Social Event

Date: 21 Feb 2011
Time: 19:00 - 21:00
Venue: Café Deco, Level 1-2 Peak Galleria, 118 Peak Road, The Peak
Sponsor: PCCW
Transport: Buses will arrive at the Harbour Road Entrance of HKCEC. First Bus leaves at 18:15. Last bus leaves at 19:15;
The return trip to HKCEC will depart The Peak from 9pm to 10 pm.
How to get back to Wan Chai district if you are leaving the Peak yourself?
You may choose to take either of the following ways to get back to the Wan Chai district.
By Peak Tram
Peak Tram lower terminal to upper terminal

Daily: 7 am to 12 am

Frequency: Departs every 10 to 15 minutes

Fare: Adult one way HK$20, return HK$ 30

From the Peak Tram Terminal, the Central Station Exit J2 or Admiralty Station Exit B can be reached with 5-10 min walk where you can get back Wan Chai Station with the Hong Kong Island line.
By Bus
Route No. 15(Normal)

Central Pier 5 to The Peak

Daily : 10:15 am to 12:15 am(from Man Kwong Street outside Central(Pier 5))

Daily : 9:10 am to 1:00 am(from The Peak)

Frequency : 7 to 15 minutes

Fare : HK$ 9.80

The bus route will pass through the Wan Chai district.
By Mini Bus
Minibus No. 1

Central (Two IFC) to The Peak

Daily : 6:30am - 12:00am (from Central)

Daily : 7:10am - 12:25am (from The Peak)

Frequency : 10-12 minutes

Fare : HK$8.00

The minibus will pass through the Central Station in Pedder Street.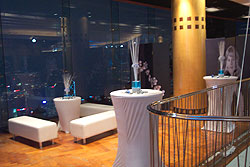 Since its opening in 1994, Cafe Deco - the originator of the show kitchen concept in Hong Kong - has remained the largest restaurant atop The Peak, Hong Kong's most famous landmark.
Set amongst Art Deco-inspired surroundings and against the most stunning views of Hong Kong's world famous harbour and skyline, Cafe Deco's two levels - dramatically linked by a sweeping spiral staircase, offer over 15,000 square feet of dining with a 600 seat capacity.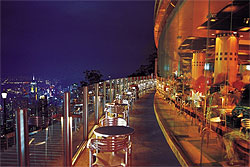 Cafe Deco offers a blend of delectable ethnic cuisines and beautifully prepared international dishes accompanied by a wide selection of wines from around the world.
Closing Social Event

Date: 24 Feb 2011
Time: 19:00 - 21:00
Venue: Duetto, 2/F, Sun Hung Kai Centre, 30 Harbour Road, Hong Kong
Sponsor: tinet
Meeting Point: Reception concourse near Harbour Kitchen: 18:30
Walking Distance: 10 minutes walk from HKCEC (refer to the map)

Duetto brings together inspiring Italian and incredible Indian cuisines into one exceptional dining experience, surrounded by spectacular views of Victoria Harbour.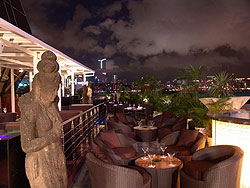 The overall feel of the restaurant is contemporary, fashioned in oak, wood, and all things beige and chocolate brown with floor to ceiling windows and a huge Tuscan Terrace. The restaurant features an open kitchen, which is designed to showcase the authenticity of both Italian & Indian cuisines, where diners can see in full view the freshest ingredients being prepared.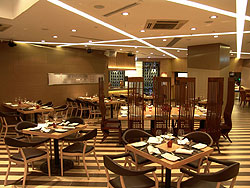 Situated at the former Viceroy location, Duetto brings together the cuisines that were previously offered at restaurants Viceroy and Milano and takes the gastronomic experience to another level.
Peering Social
(by invitation)

Date: 22 Feb 2011
Time: 17:00 -19:00
Venue: Convention Hall Foyer,
Hong Kong Convention & Exhibition Center
Sponsor: Equinix