Tourist attractions around Hong Kong
Apliu Street Market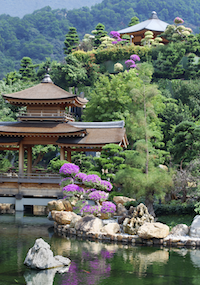 This flea market can be a cheaper, more interesting shop than the Temple Street Night Market. Browsers can find anything from clothing and antiques to second-hand electronics. Exit A1 from the Sham Shui Po MTR station.
Cheung Chau Typhoon Shelter
See the harbour from a fisherman's perspective by chartering a sampan for HKD50 - 80.
Chi Lin Nunnery
This large Buddhist complex is considered the most beautiful built environment in Hong Kong. The Nunnery originally dates to the 1930s, but was rebuilt in the Tang Dynasty style in 1988. Take a break from the hectic city in this tranquil area, filled with lotus ponds, pristine bonsais, and silent nuns making their offerings.
Chinese University of Hong Kong Art Museum
The East Wing Galleries hold permanent Chinese collections, including ancient bronze seals, paintings, and jade flower carvings. The West Wing Galleries present several special exhibitions each year.
Happy Valley Racecourse
Horse racing is the most popular form of gambling in Hong Kong and a quintessential part of the Hong Kong experience. Enjoy the electric atmosphere, whether or not you choose to place a bet!
Hong Kong Film Archive
Discover the history of Hong Kong's film industry at the Archive, which is home to more than 4,300 films and other film paraphernalia exhibits. Regular screenings showcase a wide variety of local and foreign films.

Hong Kong Museum of Medicinal Sciences
This small museum boasts striking architecture and an attached herb garden. The unusual, yet informative exhibits compare Chinese and Western approaches to medicine.
Hong Kong Park
One of the most distinctive parks in the world, Hong Kong Park is weird and wonderful with its attractions that include a fountain plaza, conservatory, artificial waterfall, and t'ai chi garden among others. Enclosed on one side by a wall of skyscrapers and mountains on the other, this place makes for some dramatic photographs.

Kowloon Mosque & Islamic Centre
This is the largest Islamic house of worship in Hong Kong, able to accommodate 2,000 worshipers. On the site of an 1896 mosque built for Muslim Indian troops, the present carved marble mosque and dome was completed in 1984.
Kwun Yam Shrine
According to local wisdom, crossing the Longevity Bridge in front of this unique shrine will add three days to your life. Around the shrine is an assortment of deities and other figures, including the Chinese goddesses of mercy. Throw a coin into the open mouth of a fish statue for good fortune!

Sheung Shui and Fanling Markets
These bustling markets are worth a look, particularly in the morning. These markets feature exotic produce, including 'thousand-year' eggs and the freshest selection of fish.
Yuen Po Street Bird Garden & Flower Market
In this lovely market, you are likely to see Chinese men fussing over their prized songbirds, which are often kept as pets. Birds and elaborate cages carved from teak and bamboo are available for sale. Some birds are regarded as lucky, making them a common sight at the racetrack.