H David Lambert
President and CEO of Internet2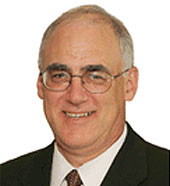 H. David Lambert is the President and CEO of Internet2. In partnership with the Board of Trustees and the Executive Leadership Team, Lambert is responsible for helping set the vision and the success of the Internet2 organization. Together, with the organization's governance, Lambert works to ensure the fulfillment of Internet2's mission: Internet2's relevance to the membership; and the accountability of Internet2 to its constituencies.
Prior to joining Internet2, Lambert was the first Vice President for Information Services and Chief Information Officer at Georgetown University. Holding the VP/CIO position since early 1998, Lambert has successfully moved the University forward in the strategic application of information technology across a wide range of university programs and services.
His leadership efforts have focused on deployment of an advanced technology infrastructure, modern information systems, critical middleware and responsive technology support services. Under Lambert's direction, Georgetown has taken an active role in regional technology activities such as the Mid-Atlantic Crossroads (MAX), a regional advanced Internet consortium, and national higher education technology initiatives such as Internet2 and the Common Solutions Group. Under Lambert's leadership, Georgetown University was awarded the EDUCAUSE Best Practices Award in Applications for HOYAS ONLINE, an innovative collaboration with the university's Development Office to provide a wide array of online services for alumni. Lambert has also lead the development of an Advanced Research Computing Program that has attracted national attention through research collaborations with faculty at Georgetown Medical Center. This program has received funding from the National Library of Medicine and the National Cancer Institute.
Lambert was recruited to Georgetown University from Cornell University, where he served as Vice President for Information Technology from 1994 through 1997 and as Director of Network Services from 1989 through 1993. As Director of Network Services, Lambert was responsible for networking and communications technologies and services for the university and for Cornell National Supercomputer Facility. While at Cornell, Lambert was recognized as an Innovator in Advanced Networking by Networking Magazine.
Prior to joining Cornell in 1989, Lambert held several technical and leadership positions at Indiana University, Bloomington, including the position of Director of Academic Networking where he was responsible for the deployment of the first university-wide multi-service IP network.
Mr. Lambert's academic background includes a B.A. in Political Science from West Virginia University (1971) and doctoral studies in Political Science at Indiana University, Bloomington (1972-1976). He also holds the Professional Manager Certificate from Indiana University's Graduate School of Business.
Lambert has held a number of past leadership positions in higher education technology associations: including service as Board Chairman of the New York State Research and Education Network (NYSERNet.org); has served on the board of the National Association of College and University Business Officers (NACUBO); and He represents Georgetown University as Trustee of the Southeastern Universities Research Association (SURA) where he also chairs the Information Technology Committee and serves on the SURA Board of Trustees Executive Committee; served as a member of the EDUCAUSE National Telecommunications Task Force (NTTF) and served two terms on the Planning and Policy Board for the University Corporation for Advanced Internet Development (UCAID) and is a Founding Member of the Mid Atlantic Crossroads (MAX) the regional networking organization connecting universities and federal agencies in the region to Internet2. Lambert is also influencing the higher education discussion on Collaborative Open Source Software Development as a featured speaker at the Educause 2004 Conference and an Educause Live! webcast in February 2005. An upcoming article in Chief Business Officer the magazine of NACUBO addresses the changing landscape in university enterprise applications brought about by the increasing prominence of scholarly information systems. He has participated in numerous university reviews and accreditation teams and regularly speaks on technology issues to diverse audiences.
Lambert is married, has one child, and lives in Bethesda, Maryland.
Abstract: "Internet2: Creating bridges for global research and education"
In our twenty-first century, the iconic figure of a lone researcher doing late-night experiments in an isolated laboratory has become officially obsolete. Researchers are now deeply involved in collaborations; the laboratory is now a global facility, connected and supported by a global cyberinfrastructure. At the same time, there has been a worldwide increase in demand for higher education and there is an increased mobility of students to attain education. Global university enrollment doubled from 1990 to 2009 to 150 million students. Three million students now study outside their home countries - a 57% increase in the past decade. More and more, universities must compete in a global marketplace for students and open remote campuses worldwide to support students in other countries.
These and other paradigm shifts over the past decade have prompted Internet2 to reevaluate and realign its priority focus areas – with global partnerships and engagement being a key area. The future success of Internet2 members will depend on strengthening strategic partnerships with international counterparts and making the most of collaboration opportunities in advanced networking, cloud services and services above the network, and remote conferencing technologies. These partnerships are the bridges that will enable virtual collaboration between global communities, and provide the infrastructure required to support the teaching, learning, clinical and outreach missions that underpin the entire global research and education ecosystem.
In this talk, Internet2 president and CEO Dave Lambert will outline his vision for Internet2's global strategy and the key mechanisms needed to support the R&E community in the face of challenges and opportunities in globalization and large-scale distributed research.