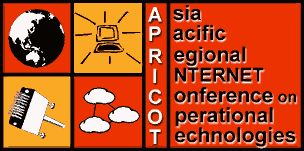 The APRICOT Week at a Glance ( Version 1.1 )
The Asia Pacific Internet Festival of 1999
Venue: Suntec City Convention Centre, downtown Singapore
Dates: 28 February 1999 to 7 March 1999

APRICOT '99 will consist of two days of tutorials (1-2 March 1999) and seminars followed by three days of conferences consisting of concurrent Technical, Business, Education, Policy and other tracks. (3-5 March 1999)
In addition to other back-to-back meetings of Asia Pacific Internet organisations APNG, APNIC, APIA, APTLD, and their respective working groups, and other Internet conferences such as Internet World Asia @ Singapore 1999 and Singapore Linux Conference 1999, APRICOT'99 will be hosting within its conference tracks:
The Open Meetings of ICANN, the Internet Corporation for Assigned Names and Numbers, the successor organisation to IANA. (3 March 1999)
APPLe Policy Track
APPLe Women's BoF
APNG Education Track
The program of the APRICOT tutorials and conferences and associated events is here. Keynote speakers include
Dave Farber
Esther Dyson, ICANN
Van Jacobson, Cisco Systems
Chris Moore, iPASS
Leong Keng Thai, TAS, Singapore
Conference/Tutorial Speakers include:
Scott Bradner, Internet Engineering Steering Group Member, Internet Society Board of Trustees Member, Creator of the Harvard University "Bradner Tests" for routers and switches.
Steve Deering, developer of IP Multicast
Robert Collet, Teleglobe
Randy Bush, Dir of Network Engineering - Verio
Geoff Huston
Eric Allman, developer of Sendmail And many others.
---
Note that all room numbers refer to those at the Suntec City - Singapore International Convention and Exhibition Center (SICEC)

Floor Plan: Level3
Date
Time
Room
Event

Sunday, 28 Feb

1300-1700
MR 204 (new room)
APNG Disability SWG ENABLE'99 Symposium
1700-1900
MR 204
APNG-APTLD Internationalisation of the DNS (APTLD Session 1)

Monday, 1 Mar

0900-1800
MR 208, 209, 306, 309-314
8 APRICOT Tutorials
0800-1230
MR308 (new room)
APNG AP-ISOC Meeting (0800-1000)
APNG APSIRC WG Meeting (1030-1230)
MR307
APTLD Workshop on DNS Policy (Session II)
1300-1500
MR 308 (new room)
APNG General Meeting
MR 307
APTLD Country Reports (Session III)
1530-1830
MR 308 (new room)
APNG Chairman's Commission on Critical Infrastructure Protection
MR 307
APTLD Members Meeting (Session IV)

Tuesday, 2 Mar

0900-1800
MR 208, 209, 306, 308-314
8 APRICOT Tutorials
0800-1800
MR 204-207
ICANN Board Committee Meetings (closed door)
0800-1230
MR 201 (new room)
DNSO Meeting I
1330-1800
MR 201 (new room)
DNSO Meeting I
Evening

To be determined

APRICOT Opening Reception (unplanned)

Wednesday, 3 Mar

0900-0945:
MR 201
APRICOT Opening and Plenary Keynote:
Professor Dave Farber

0945-1300:
MR 201
ICANN Open Track
1330-1700
MR 205
ICANN Open Track
1330-1700
MR 202,203
2 APRICOT Technical Tracks
1330-1700
MR 208
APRICOT Business Track
1800 - 1930
To be determined

APRICOT BOF
- Peering/Exchanges
- Y2K

Thursday, 4 Mar

0900-1000
MR 205
APRICOT Plenary Keynote
Chris Moore
Van Jacobson
1030-1700
MR 202,203
2 APRICOT Technical Tracks
1030-1700
MR 208
APRICOT APNG Educational Track
1300-1800
MR 303 (new addition)
DNSO Meeting II
1800 - 1930
To be determined

APRICOT BoFs
- iDNS - PGP signing - Women in IT BOF

Friday, 5 Mar

0900-1000
MR 208
APRICOT Plenary Keynote
Ms Esther Dyson, ICANN
Mr Leong Kheng Thai, Director General, Telecommunications Authority of Singapore
1030-1700
MR 208
APRICOT APPLe Policy Track
1030-1700
MR 202, 203
APRICOT Technical Track
1300-1700
MR 204
APNIC Executive Council Meeting
Evening
To be determined

APRICOT Social Event(unplanned)

Saturday, 6 Mar

0800-1800
MR 203
APNIC Annual General meeting
1830-2130
MR 208-209
APNIC Cocktail Reception
1000-1230
MR 201
APIA AGM (For Members only)
1300-1830
MR 201
APIA Roundtable Session (Observers welcome)
| | | | | | | | | | | | | | |
| --- | --- | --- | --- | --- | --- | --- | --- | --- | --- | --- | --- | --- | --- |
| . | APNIC | . | APRICOT | . | APTLD | . | APPLe | . | APIA | . | APNG | . | ICANN |