APNIC EC Elections
The APNIC Executive Council (EC) represents the APNIC Membership and acts in the best interests of the organization.
Open elections to fill vacant positions on the APNIC EC where held on 5 March 2010 at APNIC 29. The following candidates were elected to the APNIC EC:
Ma Yan
Akinori Maemura
Che-Hoo Cheng
Each EC member serves a two-year term and is eligible for re-election at the end of each term. Find out more about the APNIC EC from the APNIC website.
EC Election Timeline
EC nominations open
8 Jan 2010
(8 weeks before AMM)
EC nominations close
17 Feb 2010 17:30 UTC+10 Brisbane time
(about 2 weeks before AMM)
Proxy / EC online voting opens
19 Feb 2010
(10 working days before AMM)
EC online voting closes
3 Mar 2010 09:00 UTC+8
(KL time)
Proxy closes
3 Mar 2010 09:00 UTC+8
(KL time)
EC onsite voting takes place
5 Mar 2010 09:00 - 14:00 UTC+8
(during AMM)
EC Election process
For more information about Who can vote in an APNIC EC election please visit the main Election pages on the APNIC Website.
Nominations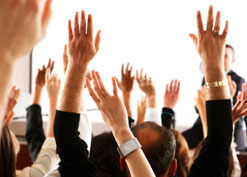 Only APNIC Members can make nominations. Nominations of representatives from their own organization are welcome!
Nominees do not have to be representatives of APNIC Members.
Nominations will open on 8 January 2010 and close on 17 February 2010 at 17:30 UTC+10 (Brisbane time).
Only Member organizations can vote in the EC elections.
Nominations have now closed.
Vote online
Online voting is only available to APNIC members using MyAPNIC. Member organizations can exercise a number of votes according to their membership tier. Online voting closes at 09:00 UTC+8 (KL time) on 3 March 2010.
Note:
Only contacts with voting rights may vote online
By default, all existing Corporate Contacts have voting rights
You need certificate access to MyAPNIC to cast your votes online
Proxy voting
Proxy voting has now closed.
Only Corporate Contacts can appoint a proxy to vote at the meeting. Any person may be authorized as a proxy for an APNIC Member by the Member's Corporate Contact.
Proxy voting closes on 3 March 2010 at 09:00 UTC+8 (KL time)
The proxy registration form can be submitted in the following ways:
MyAPNIC – If registered member contacts have voting rights and access to MyAPNIC, they can use it to submit the form.
Email – Corporate Contacts can print, complete, and sign the proxy form and send a scanned copy to helpdesk@apnic.net (subject line: APNIC 29 EC election)
Fax – Corporate Contacts can print, complete, and sign the proxy form and return it by fax to +61-7-3858-3199
Vote on site
If you can't vote online, you can vote on site at the AMM.
Note:
You must be a Corporate Contact and present valid ID on request.
If you are not a Corporate Contact, but represent an APNIC Member, you must have voting rights assigned to you by the Corporate Contact before you can vote.
If you are voting by Proxy, the Corporate Contact of the current Member organization must submit a completed proxy form to APNIC by the due date. You will receive a confirmation email from the APNIC Secretariat within a 24-hour period.
Registered contacts with voting rights and appointed proxies can collect ballot papers at the AMM registration desk from 08:30 UTC+8 (KL time), 5 March 2010.
How many votes do I have?
Voting entitlements for APNIC Members are as follows:
| | |
| --- | --- |
| Associate | 1 |
| Very Small | 2 |
| Small | 4 |
| Medium | 8 |
| Large | 16 |
| Very Large | 32 |
| Extra Large | 64 |
You can distribute a portion of your votes among a number of candidates either in person or online.
If you have any queries about the election process, please contact helpdesk.